This course is for professionals, who aspire to a step-change in their practice, creating opportunities for self and others, facilitating wisdom and development in organisations, groups and communities.  In response to the current pandemic this course is offered in a fresh, innovative and inclusive online format.
The one-year course comprises four modules and is organised into eight workshop blocks, two days each, a total of 16 days interactive training days, self managed learning and experiential assignments. These modules will invite understanding and skills of systemic leadership and consulting practice, systemic coaching, working with complexity, and organisational development.
Introduction
The Diploma in Systemic Leadership and Consulting Practice foregrounds how people in organisations contribute, through their interaction, consciously and unconsciously, to the organisational system. It includes approaches, methods and techniques facilitating insight, agency and choice through giving attention to patterns of communication, relationship and culture, enabling an impact on strategies, processes, roles and tasks. Skills and methods taught on this course are of relevance to the development of relationships between individuals, teams or departments; for organisational learning; the development of strategies, plans and processes; the informing of roles and tasks; the production of goods and services, and so forth. This systemic frame opens up novel and generative ways of working as a systemic leader, consultant and coach.
Systemic approaches to work with organisations originate from the field of Systemic Family Therapy, Group Analysis and from dialogic organisational development, stimulating innovative, effective and sustainable responses to organisational dilemmas and development tasks.
---
Course learning and participation
The course invites you into a comprehensive, practice related learning journey at the edge of modernist and post modern discourses of organisational practice. Our systemic approach to leadership and consulting is based on a compelling framework that integrates dialogic skills and sensibilities with proven conventional approaches and established organisational practices.
Y
ou emerge as a systemic leader and consultant through your engagement with theory, seminar presentations, reflections on your practice, skills development and work related exercises. A variety of learning modalities include lecturing, tutoring, reflexive learning in relation to own practice and assignments, self managed studies and reading, contribution to reading seminars, small and large group work.  Assignments are practical and not written.
As part of the training you also have the opportunity to receive consultations in relation to your professional task and role in the context of your organisation's values and objectives. Your learning is supported by a number of reflexive assignments requiring you to relate learning to your professional practice. In addition you are encouraged to shape your learning journey to meet your development needs and to contribute to your organisation.
This course is an inclusive practitioner led, co-created learning experience. Participants also enrich each other's learning, by sharing their development and practice in their particular field. There is no requirement of prior knowledge or training of systemic practice. However, with the learning process being tightly knit to your work practice and the contribution the course invites in the context of your organisation, we require participants to have a practice context to participate fully in the learning. To be clear, this practice context does not have to be a formal leadership or consulting role.
The minimum number of participants will be eight, the maximum will be sixteen.
---
Course structure
The training comprises four modules which build on each other. These modules will invite understanding and skills of systemic leadership and consulting practice, systemic coaching, working with complexity, and organisational development. Each module is covered in two seminars of two days, a total of 16 days online training days.  In addition to these training days each module requires self managed learning and work on an assignment.  Assignments are not assessed.
Preparation for seminal learning will require you to read papers and to contribute to the presentation of practices and ideas on the topic. Every module includes an assignment that facilitates reflexive practice learning and invites the relevance of your training for your organisation. There is a minimum attendance required for achieving the Diploma.
The total of eight seminars of two days each are scheduled in approximately four week intervals.
Training Modules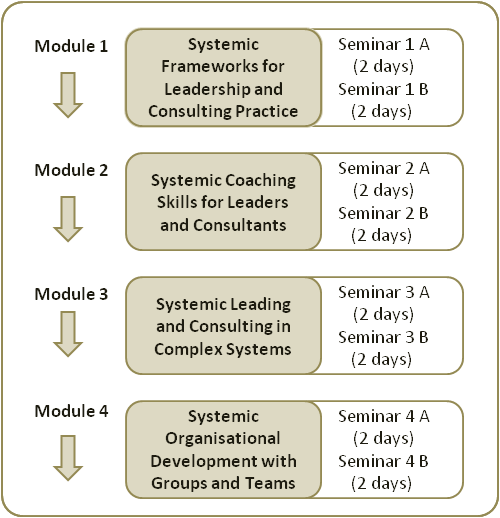 Module 1: Systemic Frameworks for Leadership and Consulting Practice
This first module will introduce you to the systemic approach to leadership and consulting. This approach, inclusive of other approaches, widens our ways of making sense of a situation and working with it, using systemic and group analytic practical theories, frameworks and exercises to facilitiate leadership and consulting abilities.
You will learn to
use systemic frameworks for orientation in conversations and tasks that are complex, ambiguous or morally challenging
use systemic and group analytic theory to make sense of the system or matrix and its unconscious dynamic processes
expand repertoire and choice for how to go on in such conversations – pragmatically and ethically
develop reflexive insight into your practice as leader and consultant.
expand your sensibilities for the position of others in a system, which will make you a more adaptive consultant and leader
use systemic inquiry to facilitate development, participation and agency in systems.
This module will increase your agency as a leader or consultant. It will facilitate your insight into the coherence and incoherence of organisational contexts and processes. You will expand your skills for reflexive practice and reflexive learning.
Module 2: Systemic Coaching Skills for Leaders and Consultants
The second module gives you the instruments to facilitate change, development and competence in others. These skills are valuable in formal coaching relationships and projects as internal or external coach, but are also invaluable in everyday leadership and consulting practice.
You will learn to
develop a critical and in depth understanding of different systemic coaching approaches and their underlying theories of change and development
develop an understanding of a group analytic approach to team coaching
create opportunities for coaching conversations in leadership and consulting settings, in formalised and informal ways,
conduct coaching sessions considering contracting, relationship, ethics and the wider purposes and tasks of the organisation
skillfully work with a range of coaching approaches including appreciative, reflexive, group analytic and solution focused coaching.
This module will develop your capacity to deliver organisational goals and change through coaching work with individuals and teams. It will also grow your ability as leader or consultant to develop capabilities in others – coachees, members of your team, peers – in a respectful, validating and inclusive way.
Module 3: Systemic Leading and Consulting in Complex Systems
In this third module you will develop ways to engage constructively with complex organisational challenges and opportunities. These will include problematic organisational and group dynamics, ethical decision making, use of power, the social unconscious and relational ethics. This module includes frameworks and practices that facilitate sense making and generative response to such complexities.
You will learn to
effectively position yourself as leader or consultant in relation to the presenting challenge or complexity
identify, understand and intervene in patterns and processes that are limiting to organisational learning, effectiveness or ethical practice
facilitate organisational sense making, orientation and agency in relation to organisational challenges utilising forms of reflexive practice in conscious and unconscious dynamics
be sensitive to issues of power, diversity and the social unconscious and their impact on individual and organisational performance
create opportunities for coordinated forward movement and organisational development.
This module will develop your ability to seize organisational opportunities, to make generative use of self and organisational dynamics, and to make contributions to organisational effectiveness and development. It will equip you to provide leadership and consulting in response to complex challenges.
Module 4: Systemic Organisational Development with Groups and Teams
This final module offers systemic frameworks and skills to facilitate organisational learning and development processes. It will equip you to identify opportunities for organisational development (OD) and to effectively and ethically frame OD interventions. You will develop understanding and skills in advanced dialogical OD methods, such as Appreciative Inquiry, Reflexive Inquiry, Open Space Technology, World Café, Future Search in order to design and facilitate organisational change processes. You will also develop understanding into small and large group processes from a group analytic perspective.
You will learn to
critically and creatively engage with organisational dilemmas, concerns and opportunities in order to create the conditions for OD
make situated choices on OD approach and design
negotiate effective and ethical boundaries for OD processes that are transparent and safe for participants and other stakeholders
facilitate engagement, orientation and participation throughout
use systemic inquiry to facilitate reflexivity, insight, agency and action in organisational systems
use group analytic theory to enhance understanding and intervention in small and large group processes
provide accountable stewardship throughout the process
This module will develop your ability to contribute from various positions to organisational change and development work with the organisation as a whole, with teams, inter team or inter organisation. The module will also equip you to offer effective process leadership and consulting even in areas where you hold little content knowledge.
---
Course schedule and timings 2021
Module 1: Systemic Frameworks for Leadership and Consulting Practice
Seminar A
Feb 22-23
Seminar B
Mar 22-23
Module 2: Systemic Coaching Skills for Leaders and Consultants
Seminar A
Apr 19-20
Seminar B
May 17-18
Module 3: Systemic Leading and Consulting in Complex Systems
Seminar A
Jun 14-15
Seminar B
Sep 20-21
Module 4: Systemic Organisational Development with Groups and Teams
Seminar A
Oct 18-19
Seminar B
Nov 22-23
Workshop times are 9:30am to 4:30pm
---
Facilitators
---
Venue
Seminars are facilitated using an online platform Zoom.  Participants require a laptop, PC or notebook with a stable internet connection.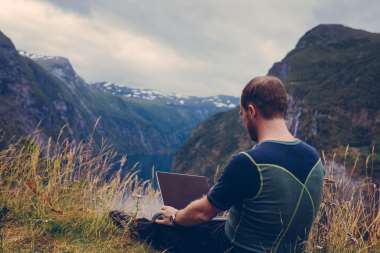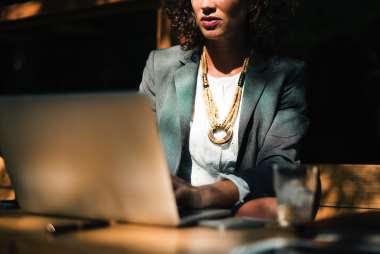 ---
Registration and course fee
This training is designed for a learning group that forms at the beginning and continues through all modules of the training. It is therefore not possible to book single modules. Please be mindful that there is a maximum of sixteen places on this programme.
Booking and payment options:
Early bird fee of 3160 pounds:
available as of now until end of November 2020
confirmed place on the program as of registration
payment within 14 days
no installments
Regular course fee of 3360 pounds:
confirmed place on the program as of registration
payment within 14 days
payment in installments possible
split billing to individuals and organisations possible
These prices do not include VAT. Terms of cancellation are set out on the online registration form.
We have a limited possibility to provide the course VAT exempt (without VAT) which we offer for self paying individuals and charities that are not registered for VAT. Organisational buyers like businesses, local government and governmental organisations, universities and the NHS, registered for VAT, will be billed the full course cost plus VAT.
In case the course start has to be cancelled or deferred for any reasons participants will be reimbursed whatever they have paid.
Continue here to register for The Diploma in Systemic Leadership and Consulting Practice.
---
Contact Information