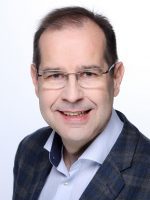 Martin Miksits (DProf) works as coach and consultant with leaders, teams and organisations.  He has taught systemic leadership in University, private and public services contexts, and has co-developed and co-led the MSc in Systemic Leadership and Organisational Development with Christine Oliver.  He also works as systemic therapist in private practice.
His consulting experience is with public service and business organisations in facilitating organisational transitions, development and learning, for instance in relation to organisational practice, process, performance, strategy or culture, using systemic, appreciative and collaborative approaches.
Martin draws on twenty years of industry experience working mostly in international management positions. He has been leading major strategic change initiatives in a global company, business development and sales management in Latin America, management of merger and acquisition projects in the Netherlands and in Belgium, cultural change and process change in Austria and in the UK.  He has a professional doctorate in Systemic Practice and masters degrees in Business Administration, Systemic Therapy, and Systemic Leadership and Organisational Practice.