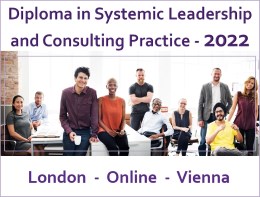 This course is for professionals, who aspire to a step-change in their practice, creating opportunities for self and others, facilitating wisdom and development in organisations, groups and communities.
From 9:30 until 16:30
At London - Online - Vienna
£3400. The early bird fee is £3200.
The Systemic Development Partnership / info@systemicdevelopment.eu
The one-year course comprises four modules and is organised into eight workshop blocks, two days each, a total of 16 days interactive training days, self managed learning and experiential assignments. These modules will invite understanding and skills of systemic leadership and consulting practice, systemic coaching, working with complexity, and organisational development.
The 2022 course starts in January with 2 seminar days in London and finishes in October with two seminar days in Vienna.  All other seminars will be offered online.
Read more on course learning, participation, course structure, content, registration and fee options of the Diploma in Systemic Leadership and Consulting Practice here...
---
Register for the Diploma here...
---